Specialists in premium wines
Fine Wine Wholesalers have been distributing premium wines of the world since 1987. We are Western Australia's Best Wine Supplier – Metropolitan 2015 at the Western Australia Hospitality Supplier Awards as voted by the AHA WA members, & the number one supplier of wine to the on-trade in Western Australia for 2013 and 2014 according to the Wine Business Solutions "Wine On-Premise" survey
Deep Woods Ivory 2015
-
The Ivory 2015 has landed at FWW HQ!!  Get your orders into the office or your Area Manager today! The first 2015 release from our portfolio.
Grosset Autumn Releases
-
The 2015 Autumn release has commenced – Piccadilly Chardonnay 2013, Gaia 2012 and Pinot Noir 2013. Included is Jeffrey Grosset's brand new release – Grosset45 Spirit. These wines are all very limited. Login to the trade page to fill out an allocation form.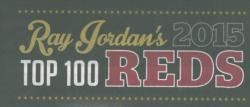 Ray J knows best
-
Ray Jordan has just released his picks for the Top 100 Reds of 2015. Call the office or your Area Manager to place an order Ray Jordan Top 100 Reds
Feeling Thirsty?
-
The world's best water and #1 Australian Mineral Water is now part of the FWW Portfolio! Login to the trade page for more information